2017 Entertainment – Columbia County Fair
See daily schedules for times and locations.
TRAVIS TRITT
Sponsored by Hudson River Bank & Trust Co. Foundation
More than 27 years after Travis Tritt launched his music career, the Southern rock influenced artist continues to stay true and relevant to country music fans across the globe.
Over the course of a decade, Travis released seven studio albums and a greatest hits package for the label. "Country Club," "Help Me Hold On," "I'm Gonna Be Somebody," and "Drift Off to Dream" peaked at numbers two and three on the Hot Country Singles & Tracks charts; all which led for Tritt to win Top New Male Artist award from Billboard and the CMA Horizon Award (now known as the New Artist Award).
Two years after his debut, Travis' sophomore album, It's All About to Change, was released. Literally speaking, this album changed everything when all four of its singles reached the top five on the country music charts. Along with his first album, this release became triple-platinum certified by the RIAA.
The next series of albums, seven of which are certified platinum or higher, scored him more hit singles and led him to amass more than 25 million in career album sales, two Grammys, three CMA Awards and a devoted fan base that filled venues coast-to-coast.
In 2012, Tritt released his album, The Calm After…., on his own newly-formed label, Post Oak Recordings. At the end of 2016, he released a special 2-disc CD and DVD, titled A Man and His Guitar – Live From The Franklin Theatre.
Tritt's compilation album, Very Best of Travis Tritt, which was released in 2007, saw a resurgence of sales that started in Nov. 2014. The 20-track album features some of Tritt's biggest hits, including "It's A Great Day To Be Alive," "Here's A Quarter," and "Anymore."
CINCINNATI CIRCUS
Sponsored by Flach Gymnastics Academy LLC
The Cincinnati Circus proudly presents The BIG Show: Vintage Circus for the fine folks of Columbia County. The cast in their 6th touring season is ready to amaze and astound you with a huge variety of circus acts. The show runs a little more than an hour and features all of the classic acts you could ask for – Juggling, Magic, Comedy, Aerial Acrobatics, Hula Hooping, Bed of Nails, Whipcracking and TONS more. After each show, feel free to come meet the artists, have them sign an autograph for you and take a quick picture with your camera!
DEMOLITION DERBIES
Sponsored by Madsen Overhead Doors and W & B Golf Carts Inc.
Enjoy the crashin', smashin' action of our annual Demolition Derbies with the return of Stoney Roberts. On Wednesday night, catch 4 cylinders, mini vans, mini pick-ups and mini SUVs heats plus 6 and 8 cylinders and full-size pick-ups and vans on Thursday night. Cash purse of $1,400 given out each night. www.stoneyroberts.com
MONSTER TRACTOR PULL
Sponsored by Hudson River Tractor
What started out many years ago with farmers bringing their favorite tractors out of the fields to the local fair and pulling the heaviest stone boat the furthest has progressed into the HEAVIEST MOTOR SPORT IN THE WORLD! Watch these modified, Super Stock and Super Farm class tractors and 4 wheel drive trucks roar past the Grandstand in hopes of a full pull, bragging rights and points towards the circuit championship!
PAINTED PONY CHAMPIONSHIP RODEO
Sponsored by Broadway Garage and Mario's True Value Home Center. Inc.
Capture the excitement of bareback, saddle bronc, and bull riding. Hold on to your cowboy hats during the team roping, calf roping, and steer wrestling, and as the ladies race against the clock in the barrel racing contest.
EUDORA FARMS PETTING ZOO & CAMEL RIDES
Experience the interactive, hands on exotic animal petting zoo. It includes 20-25 rare and exotic animals from around the world. Animal ambassadors such as, "Little Joe" (the wallaby) "Juliet" (The Scotch Highlander) "Humphrey" (The Camel) "Rascal" (The Fennec Fox) and "Kevin Bacon" (the Pot Belly Pig). All the animals bring smiles to all who meet them! Young and young at heart will enjoy Eudora Farms Petting Zoo and the thrill of a camel ride. That's right! An actual camel ride! Plus feed the birds in the bird exhibit.
VARIETY EXTREME
Variety Extreme presents a fast-paced, family-friendly performance. The show is jam packed with a wide variety of high level acts, ranging from jaw-dropping acrobatics and dexterity to head scratching illusions, that will have you on the edge of your seat. Variety Extreme is made of top tier artists that have traveled all around the world, performing for audiences of many different countries.
DJ JACK BOGARSKI
DJ Jack Bogarski returns to the Beer Pavilion for his 20th consecutive year this 2017 season. Jack has provided the musical entertainment for all ages during the day and for the over 21 crowd from 7pm to close. He carries over 30,000 tunes and sticks to his reputation of playing the right song at the right time.
HARD LUCK BAND
Marty and Wendy Beckman make up the duo Hard Luck. Influenced by classic rock and alternative country, with an occasional old standard thrown in, Hard Luck brings to the stage some original tunes in addition to some well loved favorites.
GRIT N WHISKEY
Grit N Whiskey is a Saratoga Springs, NY based all modern country music band. If you love "new country," you'll love Grit N Whiskey. Some of the band's favorite artists to cover are Miranda Lambert, Jason Aldean, Steve Earle, Dierks Bentley, and many others.
TERRANCEB CELEBRITY MENTALIST & HYPNOTIST
TerranceB has been working with fairs and festivals for over 23 years. His hypnosis show is the ultimate in audience participation, guaranteeing fun for the whole family. In the Mentalist show, Terrance will unbelievably predict what is in someone's pocket, or their birth date, or something about a person in the audience. Be there and see for yourself!
ELI'S GIN BAND
Acoustic music with a kick an acoustic band that prides themselves on their wide range of music . From country to rock and some you wouldn't expect,  yet all everybody knows and enjoys.
ACOUSTIC RYE
Acoustic Rye is a Blues, Bluegrass, Country Band playing upbeat acoustic rock for a foot-stomping good time!
THE KENYA SAFARI ACROBATS
The Kenya Safari Acrobats offer a truly unique cultural experience. Hailing from the heart of Africa, this awe-inspiring and dynamic dance troupe takes acrobatics to exhilarating extremes. The group members learned acrobatics as children on the beaches of Kenya, as a means to break free from an impoverished country. Now they serve as artistic ambassadors for Kenya as they travel the globe, entertaining and inspiring audiences of all ages.
The Kenya Safari Acrobats perform a non-stop ride of gravity-defying human pyramids, balancing, tumbling, limbo dancing, hurling through hoops and breathtaking contortions, all while clapping to a joyful Benga beat.
ALLEN & AZZAAM
The music of ALLEN & AZZAAM is the product of a 3 year collaborative effort between saxophonist Allen Halstead and pianist Azzaam Hameed.  The ultimate result of their partnership is one where the whole is truly much greater than the sum of its parts.  Each musician has over 40 years of providing professional music entertainment, in all genres, for their listeners.  Their individual portfolios include playing with legendary performers such as Ella Fitzgerald, Billy Joel and Lou Rawls as well as many local jazz artists.  Together, ALLEN & AZZAAM specialize in presenting the jazz standards, today's contemporary jazz and R&B interpretations.
MOONSHINE JUNKIES
Moonshine Junkies is a high energy, modern country band from Schoharie County NY who perform rockin' songs by the top country artists you love like, Eric Church, Jason Aldean, Eric Paslay, Rascal Flatts, Luke Bryan, Kenny Chesney, Florida Georgia Line, Brantley Gilbert, Dierks Bentley and more!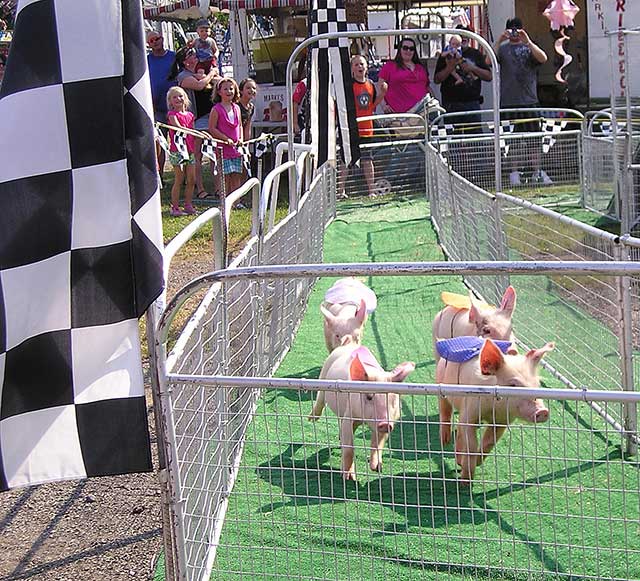 HOT DOG PIG RACES
These awkward, but cute and cuddly racing animals fascinate spectators. Real crowd pleasers, these natural comedians bolt from the starting gate and race around the track snorting and squealing, stubby legs churning and curly tails sailing along behind.
Heritage Village Exhibit
Candle making, wood carving, rug hooking, fly tying, jewelry making, tin smithing, iron work, all handcrafts that have been superseded by mechanization. Here in Heritage Village, see craftspeople working the old fashioned way – with their hands. Get a chance to not only watch something being made, but, if you choose, purchase an object to take home – a hand-crafted keepsake. Sponsored by Mulhern Gas Co.