2021 Entertainment – Columbia County Fair
See daily schedules for times and locations.
ELI'S GIN
Sponsored by Hudson River Bank & Trust Co. Foundation
Eli's Gin may have started out as an acoustic band, but have transformed their sound and promise "good ole' fashioned rock and roll at full volume".  You can catch them on Sunday from 6pm to 9pm on the Mainstage.
SIDE SHOW WILLIE
Sponsored by Hudson River Bank & Trust Co. Foundation
You can't get more local than Side Show Wille, a group that hails quite literally from the neighborhood – right here in Chatham!  These seasoned musicians will be offering up classic rock on Sunday from 1pm to 4pm.
THE JOE ADEE BAND
Singer/songwriter Joe Adee has enjoyed for 25+ years composing and writing song's. Joe has written Jingles for radio stations and his original song that he wrote in 1996 in memory of his grandfather "The Hollow" has been on WRPI Bluegrass morning show over the years. Other songs Joe has written and recorded are available on itunes, AmazonMp3 and GooglePlay and can be heard around the globe.
DEMOLITION DERBIES
Sponsored by HudsonValley360.com, Madsen Overhead Doors, Sorros Excavating LLC and W & B Golf Carts Inc.
Enjoy the crashin', smashin' action of our annual Demolition Derbies! On Thursday night, catch 4 cylinders, mini vans, mini pick-ups and mini SUVs heats plus 6 and 8 cylinders and full-size pick-ups and vans on Friday night. Cash purse of $1,400 given out each night. Want to enter? Click here
MONSTER TRACTOR PULL
Sponsored by

ACP Power Equipment Inc
What started out many years ago with farmers bringing their favorite tractors out of the fields to the local fair and pulling the heaviest stone boat the furthest has progressed into the HEAVIEST MOTOR SPORT IN THE WORLD! Watch these modified, Super Stock and Super Farm class tractors and 4 wheel drive trucks roar past the Grandstand in hopes of a full pull, bragging rights and points towards the circuit championship!
PAINTED PONY CHAMPIONSHIP RODEO
Sponsored by Mario's Home Center
Capture the excitement of bareback, saddle bronc, and bull riding. Hold on to your cowboy hats during the team roping, calf roping, and steer wrestling, and as the ladies race against the clock in the barrel racing contest.
FIREFIGHTERS' PARADE
Sponsored by A. Colarusso & Son, Inc. and Stewart's Shops
More than 40 units from five counties and three states are listed in the preliminary lineup for the Columbia County Fair's 69th annual Firefighters Parade on Saturday, August 30, stepping off at 11 a.m. from the corner of Kinderhook Street and Woodbridge Avenue in the Village of Chatham. Viewing and judging of the parade will take place near the North Gate entrance of the fairgrounds off Route 203. Judging will take place by the Hudson Valley Judging Association with awards handed out at the conclusion of the parade.
PETTING ZOO
Sponsored by Herrington's Fuels, Inc.
Camels, kangaroos, pygmy horses, goats and a unicow(!) are few of the animals kids will be able to see at this year's petting zoo. Open continuous throughout the Fair, stop by and pet some new friends!
JAY MATTIOLI MAGIC
Sponsored by Community Bank
You have never seen magic like this!
Jay electrified the nation and stunned the judges with his appearance on NBC's #1 hit show " AMERICA'S GOT TALENT".
Jay's magic has appeared in over 20 countries including Hong Kong, Egypt, Kuwait, Qatar, Bahrain, England, and countless special events throughout the U.S. Jay's unique style of illusions captivate the imagination of millions. Jay creates many of his signature magic effects from the ground up. Everything from building props, costumes, music composition, choreography…..Jay does it all.
Decored in hip, vivid costumes, a carefully punked hair-do, and a vivacious assistant on his side, Jay performs magic with everything from live animals to levitating microphones as well as startling effects where Jay vaporizes his body in the blink of an eye! Packed with excitement, comedy, audience interaction, and a one-of-a-kind personality, Jay Mattioli delights audiences of the new millennium with a show that simply can not be missed!!
DJ JACK BOGARSKI
DJ Jack Bogarski returns to the Beer Pavilion for his 24th consecutive year this 2021 season. Jack has provided the musical entertainment for all ages during the day and for the over 21 crowd from 7pm to close. He carries over 40,000 tunes and sticks to his reputation of playing the right song at the right time.
CORRIE J MENTALIST
Sponsored by Community Bank
Hypnotist Corrie J is a clean, appropriate and experienced comedy hypnosis show…perfect entertainment for the whole family.
NEILS DUNKIER COMEDY JUGGLER
Sponsored by Community Bank
Crowds around the world – from Europe to Asia, from Las Vegas to Dubai have experienced the wonder and excitement of Niels Duinker live.
Clubs, machetes, and even jokes are kept flying effortlessly in this fast and funny variety show that has delighted audiences on all 7 continents. The one thing most likely to drop will be your own jaw!
Catch this show while you can. You'll see the superior skills, charm, and charisma that have earned Niels his far-reaching fan-base.
For a young entertainer, Niels has quite the resume:
• 3-time Variety Act of the Year
• 3-time National Juggling Champion in The Netherlands
• 7-time Guinness World Records holder
• Best Corporate Entertainer 2018 – Corporate Vision Magazine 
Niels has been featured in the Guinness Book of World Records 2013, 2014, 2016 and 2017
ALLEN & AZZAAM
The music of ALLEN & AZZAAM is the product of a 3 year collaborative effort between saxophonist Allen Halstead and pianist Azzaam Hameed.  The ultimate result of their partnership is one where the whole is truly much greater than the sum of its parts.  Each musician has over 40 years of providing professional music entertainment, in all genres, for their listeners.  Their individual portfolios include playing with legendary performers such as Ella Fitzgerald, Billy Joel and Lou Rawls as well as many local jazz artists.  Together, ALLEN & AZZAAM specialize in presenting the jazz standards, today's contemporary jazz and R&B interpretations.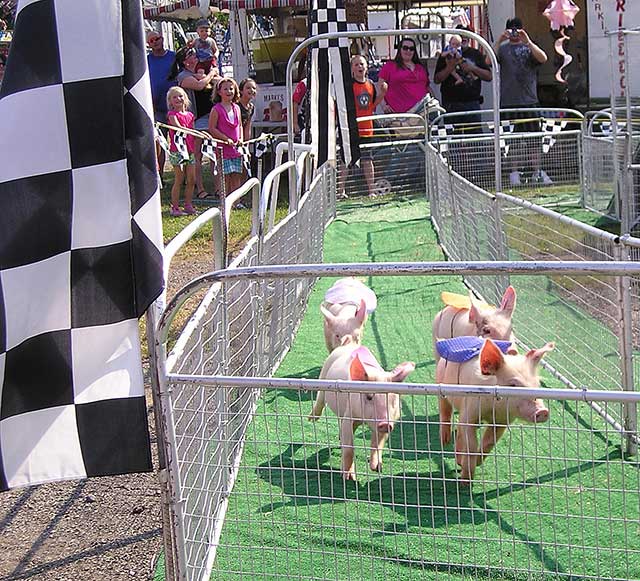 HOT DOG PIG RACES
Sponsored by Valley Energy and Crossroads Ford
These awkward, but cute and cuddly racing animals fascinate spectators. Real crowd pleasers, these natural comedians bolt from the starting gate and race around the track snorting and squealing, stubby legs churning and curly tails sailing along behind.
Heritage Village Exhibit
Sponsored by Mulhern Gas Co.
Candle making, wood carving, rug hooking, fly tying, jewelry making, tin smithing, iron work, all handcrafts that have been superseded by mechanization. Here in Heritage Village, see craftspeople working the old fashioned way – with their hands. Get a chance to not only watch something being made, but, if you choose, purchase an object to take home – a hand-crafted keepsake.
October Rose
Passion. Drive. Determination. That's what Leanne Weiss and Derek Allan bring to country music. You won't find them sitting still, nor can you try to stop them.
Since their formation, October Rose's momentum grows stronger by the day. "Heartbreak Song," the emotional song that started it all, gained critical acclaim and traction on the country music charts. And with a rigorous schedule of performing all over the country, this duo continues to win audiences over with their energetic stage performances. "We've already opened for awesome acts like Jake Owen,  Russell Dickerson, Jimmie Allen, High Valley, Tyler Rich, and Jordan Davis," Leanne says of their performance credits. "We're excited to bring our fans new music."
Jeff Ouellette DJ
Jeff Ouellette DJ
Jarrod
Local band Jarrod returns to the Fair with its original members Dick Levit, Dave Grazziano, Jack Bogarski along with new members Joe Clapper and Brian Tuczynski bring their classic rock, country and oldies songs.