2018 Entertainment – Columbia County Fair
See daily schedules for times and locations.

Sponsored by Hudson River Bank & Trust Co. Foundation
Comprised of brothers Matt and Scott Thomas (lead vocals and drums), cousin Barry Knox (bass) and their best friend Josh McSwain (lead guitar), Parmalee are the quintessential American Country band. Named after the small town where the band started, Parmele, N.C. (population 278), the chart-topping quartet pays to tribute their humble Carolina upbringings with their name and their sound. Raised on a diet of Southern rock, Country, and blues, they formed in 2001 as a bunch of small-town boys chasing wild weekend nights, but their talents eventually took them beyond the little cement block barn they rehearsed in and onto Country music's biggest stages, not to mention the top of Billboard's Country chart.
The band's blue-collar persistence made their 2013 breakout single, "Carolina," into a Platinum-certified #1 hit, while their debut album landed in the Top 10. Two more singles ("Close Your Eyes" and "Already Callin' You Mine") rose to #3 and #10 on Billboard's Country Airplay chart, all while they kept their noses to the grindstone, touring hundreds of dates a year. Awards nominations from the Academy of Country Music and Teen Choice Awards came rolling in, and headlining tours were launched but the hard-working virtues of their upbringing stand tall.
The work continued with the release of their most recent album, 27861 in July of 2017. Both singles from the project, "Roots" and "Sunday Morning" enjoyed chart time on Billboard's Top 40 Country Airplay chart and have seen more than 30 million combined streams on Spotify.
The band has packed a sixer of some of their most rebel-rousing, party-starting, tracks for their Party Pack. Available digitally, the compilation features two new tracks ("Last Night" and "These Are The Good Days") that showcase the band's signature Country-rock sound, defined by blazing guitars and soaring harmonies, live drums and a locked-in musical brotherhood.  The Party Pack takes listeners on a wild rollercoaster of a journey through a weekend complete with epic parties, morning mimosas, day drinkin' and solving those morning-after mysteries like how a car ended up in the pool.
"We love bringing people together for a good time and we hope they'll clap, sing along, and raise one up— that's what this Party Pack is all about," Matt says with a grin.
The first top popped in the pack is the bands latest single, "Hotdamalama," which first appeared on 27861. The track, which Taste of Country says is "built to be the song of the summer," marks the band's seventh single, with the previous six all reaching Top 40 in Country radio. The summer-ready scorcher is a fast-paced flirty tribute to a woman so stunning they've had to make up new terms for it.
"Seeing people smile, laugh and enjoy themselves because of something you've done is a great feeling," said Barry as Scott added, "Sharing that joy and making people have fun makes all those rougher days worth it."
No matter the obstacle, the foursome never waivered. Their tenacious work ethic, small-town values and love for each other has allowed them to persevere, grow stronger and rise to where they are today. At heart, they're still the fun-loving Carolina boys with the same adventurous spirit they left home with on the road to Nashville and beyond.
TRUCK PULL
Sponsored by ACP Power Equipment, Inc. and Broadway Garage
New to Friday night is the New York Truck Pulling circuit rolling into our Grandstand for one exciting night of diesel, 4WD modified and enhanced gas competitors, produced by Shootout Productions. A great night of motor madness!
Join in the fun for the 8500 lb Street Outlaw class, designed for daily driven, on the road, full-bodied pickup trucks. Registration and entry fee will be handled by Shootout Productions starting at noon on Aug. 31 from a special registration trailer set up at the fairgrounds. Entrants should plan to register their trucks that afternoon at the fairgrounds and applications will be taken that afternoon right up until show time. Any contestant under age 18 must have written consent from a parent or guardian. Minimum age for competing is 16 years old. Click here for full entry rules.
DEMOLITION DERBIES
Sponsored by Madsen Overhead Doors and W & B Golf Carts Inc.
Enjoy the crashin', smashin' action of our annual Demolition Derbies! On Wednesday night, catch 4 cylinders, mini vans, mini pick-ups and mini SUVs heats plus 6 and 8 cylinders and full-size pick-ups and vans on Thursday night. Cash purse of $1,400 given out each night.
MONSTER TRACTOR PULL
Sponsored by Hudson River Tractor
What started out many years ago with farmers bringing their favorite tractors out of the fields to the local fair and pulling the heaviest stone boat the furthest has progressed into the HEAVIEST MOTOR SPORT IN THE WORLD! Watch these modified, Super Stock and Super Farm class tractors and 4 wheel drive trucks roar past the Grandstand in hopes of a full pull, bragging rights and points towards the circuit championship!
PAINTED PONY CHAMPIONSHIP RODEO
Capture the excitement of bareback, saddle bronc, and bull riding. Hold on to your cowboy hats during the team roping, calf roping, and steer wrestling, and as the ladies race against the clock in the barrel racing contest.
RECORDS AND BURPEE CHILDREN'S ZOO
Sponsored by Herrington's Fuels, Inc. and Five Star Urgent Care
The Records and Burpee traveling Children's Zoo has more than 75 exotic and unusual domesticated animals in "America's brightest, cleanest, friendliest, petting zoo". The zoo is housed under a colorful big top, with educational signage, potted plants, park benches and hand-sanitizing stations. Camel and pony rides add to the fun.
EXTREME ILLUSIONIST AND ESCAPES
Extreme Illusions & Escapes, Josh Knotts & Lea, pride themselves on performing new illusions and escapes year after year!  They have set the bar with their high energy performance of spectacular, grand illusions & thrilling, edge-your-seat escapes.
DJ JACK BOGARSKI
DJ Jack Bogarski returns to the Beer Pavilion for his 21st consecutive year this 2018 season. Jack has provided the musical entertainment for all ages during the day and for the over 21 crowd from 7pm to close. He carries over 30,000 tunes and sticks to his reputation of playing the right song at the right time.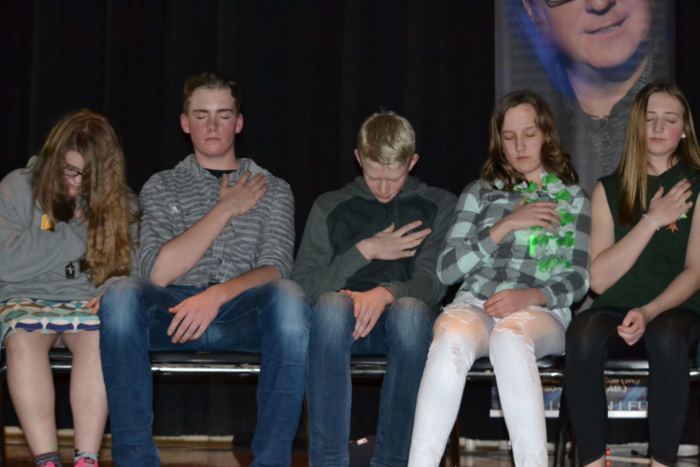 CORRIE J MENTALIST
Hypnotist Corrie J is a clean, appropriate and experienced comedy hypnosis show…perfect entertainment for the whole family.
ACOUSTIC RYE
Acoustic Rye is a Blues, Bluegrass, Country Band playing upbeat acoustic rock for a foot-stomping good time!
TIM HOLLAND VENTRILOQUIST
Master Ventriloquist Tim Holland attempts death defying stunts while arguing with himself. You can try to see if his lips are moving, but you'll probably miss something funny or amazing. The Zany characters Tim brings to life always steal the show.  Tim has been professionally entertaining for almost 2 decades. His performing adventures have taken him across Canada as well as internationally to venues in Europe, Asia, and Australia. He's shared venues with the likes of Splash and Boots, Sharon & Bram, Fred Penner and Martin Short. Get Set for More Laughs than you can Shake a Stick-Puppet at…
The show features ventriloquism, dangerous juggling objects, and a high unicycle. He has performed for the President of Singapore, trained with masters of comedy, and has a rubber-chicken that dances the can-can.
ALLEN & AZZAAM
The music of ALLEN & AZZAAM is the product of a 3 year collaborative effort between saxophonist Allen Halstead and pianist Azzaam Hameed.  The ultimate result of their partnership is one where the whole is truly much greater than the sum of its parts.  Each musician has over 40 years of providing professional music entertainment, in all genres, for their listeners.  Their individual portfolios include playing with legendary performers such as Ella Fitzgerald, Billy Joel and Lou Rawls as well as many local jazz artists.  Together, ALLEN & AZZAAM specialize in presenting the jazz standards, today's contemporary jazz and R&B interpretations.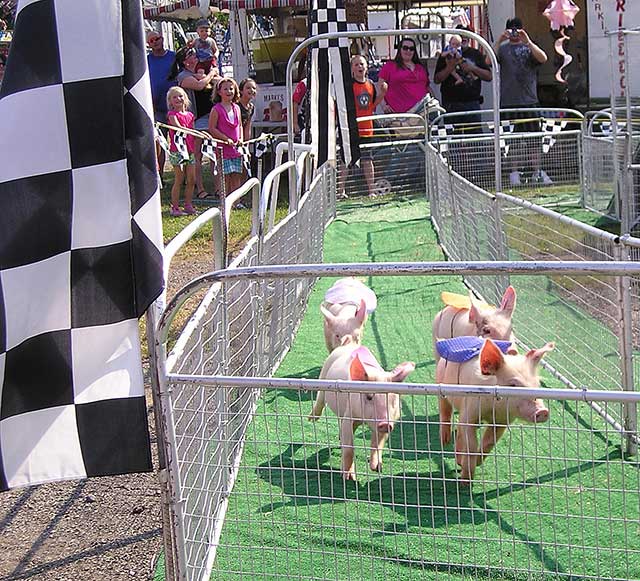 HOT DOG PIG RACES
These awkward, but cute and cuddly racing animals fascinate spectators. Real crowd pleasers, these natural comedians bolt from the starting gate and race around the track snorting and squealing, stubby legs churning and curly tails sailing along behind.
Heritage Village Exhibit
Candle making, wood carving, rug hooking, fly tying, jewelry making, tin smithing, iron work, all handcrafts that have been superseded by mechanization. Here in Heritage Village, see craftspeople working the old fashioned way – with their hands. Get a chance to not only watch something being made, but, if you choose, purchase an object to take home – a hand-crafted keepsake.
South Bound Band
South Bound covers many of Country Music's current stars. The five member band features a fantastic female lead vocalist and exceptionally talented musicians. Some of the covered artists include: Carrie Underwood, Miranda Lambert, The Band Perry, Luke Bryan, Blake Shelton, Bon Jovi, Fleetwood Mac, Gretchen Wilson and Chris Stapleton.
Music Box Productions
"Music Box Productions" consists of two friends who genuinely enjoy playing, singing, and spinning discs…entertaining for you! Mike and Herb have been providing professional music services for over 40 years. We pride ourselves on having something in our repertoire for everyone. Our karaoke song selection contains over 75,000 song titles. Not many karaoke jockeys can make that claim! Our karaoke recordings dare top quality and favored by professionals and novice karaoke singers. We are also equipped with a top-quality sound system and can accommodate up to (5) singers at a time. With karaoke, everyone is a singer!
Jimy Graham
​Award-Winning Blues/Rock/Reggae Artist/Musician Jimy Graham was heavily influenced by the Motown sound and Carribean beats. Graham performed and recorded with Los Angeles Based reggae band Babylon Warriors and opened for UB40 with Reggae Superstar Pablo Moses. His live performances include an impressive array of artists from every genre imaginable including Chuck Berry, Janet Jackson, and Maxi Priest.
Jarrod
Reuniting after 25 years, the local band Jarrod with its original members Dick Levit, Dave Grazziano, Jack Bogarski along with new members Joe Clapper and Brian Tuczynski bring their classic rock, country and oldies songs to the Fair for the first time.