2019 Entertainment – Columbia County Fair
See daily schedules for times and locations.
Sponsored by Hudson River Bank & Trust Co. Foundation and Peckham Industries, Inc.
Frankie Ballard will be appearing on Sunday, September 1st at 7PM on the Mainstage.
The Nashville resident got his start by entering (and winning) Kenny Chesney's Next Big Star competition in 2008.  That got him a gig opening for Chesney at all Michigan venues, his native state.  It also got him started on the road to becoming a country rock singer and songwriter.  By 2013, Ballard's second album, Sunshine & Whiskey won him 3 gold records – "Helluva Life", "Sunshine & Whiskey" and "Young & Crazy".  –Not a bad trifecta.
"You fall in love with songs as a kid," Ballard says.  [When I was a kid], "records were playing in every part of my house… even the garage." His Dad's favorites became his, too.  "I loved Elvis Presley, Johnny Cash and Jerry Lee Lewis."  Today he calls them the Holy Trinity of country rock.
Ballard knows his stuff.  Album #2, Sunshine and Whiskey was recorded at Muscle Shoals Recording Studio in Alabama.  Known for the work of legends including Aretha Franklin, Willie Nelson, Levon Helm and the Rolling Stones, his close affiliation with Bob Seger (again, as an opening act) got him in the door.  Ballard's most recent album, El Rio (named one of the 25 best country albums of 2016 – Rolling Stone) was recorded at the famed Sonic Ranch just south of El Paso.  Known for its collection of over 55 vintage and modern guitars as well as top end vintage recording equipment, Ballard lived there throughout the recording process for this third album.  "There's rock & roll.  There's country stories and country lyrics and country songs," he says.  "And there's a lot of blues swagger and blues guitar playing.  It's all those things together.  It's just my own brand of American music."
MORIAH FORMICA
Sponsored by Hudson River Bank & Trust Co. Foundation
At the age of 16, Albany, NY native Moriah Formica decided that she was ready to put her talents on the biggest stage that a teenager could dare to step on. She auditioned for NBC's "The Voice", leaving fans around the world (and four judges with very successful careers) awestruck by her booming, declarative rendition of Heart's "Crazy On You."
2019 marks a pivotal moment in Moriah's mission. Once an eager 7 year old drawn to the swagger and emotion of rock music, the now 18 year old Formica yearns to make the kind of music that inspired her all those years ago; all while forging a sound that speaks to both the new generation and the ones before it. Her resume now equipped with accolades and live shows accompanied by the likes of Joan Jett, Lzzy Hale (Halestorm), Michael Sweet (Stryper) and Maria Brink (In This Moment) just to name a few. There's no gimmick to this overnight sensation, regardless of what the critics might say. The formula is simple: show up, rock out, and leave the whole world asking, "who was that?"
TRUCK PULL
Sponsored by ACP Power Equipment, Inc. and Broadway Garage
On Friday night the New York Truck Pulling circuit rolls into our Grandstand for one exciting night of diesel, 4WD modified and enhanced gas competitors, produced by Shootout Productions. A great night of motor madness!
Join in the fun for the 8500 lb Street Outlaw class, designed for daily driven, on the road, full-bodied pickup trucks. Registration and entry fee will be handled by Shootout Productions starting at noon on Aug. 30 from a special registration trailer set up at the fairgrounds. Entrants should plan to register their trucks that afternoon at the fairgrounds and applications will be taken that afternoon right up until show time. Any contestant under age 18 must have written consent from a parent or guardian. Minimum age for competing is 16 years old. Click here for full entry rules.
DEMOLITION DERBIES
Sponsored by HudsonValley360.com, Madsen Overhead Doors and W & B Golf Carts Inc.
Enjoy the crashin', smashin' action of our annual Demolition Derbies! On Wednesday night, catch 4 cylinders, mini vans, mini pick-ups and mini SUVs heats plus 6 and 8 cylinders and full-size pick-ups and vans on Thursday night. Cash purse of $1,400 given out each night. Want to enter? Click here
MONSTER TRACTOR PULL
Sponsored by Hudson River Tractor
What started out many years ago with farmers bringing their favorite tractors out of the fields to the local fair and pulling the heaviest stone boat the furthest has progressed into the HEAVIEST MOTOR SPORT IN THE WORLD! Watch these modified, Super Stock and Super Farm class tractors and 4 wheel drive trucks roar past the Grandstand in hopes of a full pull, bragging rights and points towards the circuit championship!
PAINTED PONY CHAMPIONSHIP RODEO
Sponsored by Pine Haven Skilled Nursing & Rehabilitation Center
Capture the excitement of bareback, saddle bronc, and bull riding. Hold on to your cowboy hats during the team roping, calf roping, and steer wrestling, and as the ladies race against the clock in the barrel racing contest.
FIREFIGHTERS' PARADE
Sponsored by A. Colarusso & Son, Inc. and Stewart's Shops
More than 40 units from five counties and three states are listed in the preliminary lineup for the Columbia County Fair's 69th annual Firefighters Parade on Saturday, August 30, stepping off at 11 a.m. from the corner of Kinderhook Street and Woodbridge Avenue in the Village of Chatham. Viewing and judging of the parade will take place near the North Gate entrance of the fairgrounds off Route 203. Judging will take place by the Hudson Valley Judging Association with awards handed out at the conclusion of the parade.
PETTING ZOO
Sponsored by Herrington's Fuels, Inc.
Camels, kangaroos, pygmy horses, goats and a unicow(!) are few of the animals kids will be able to see at this year's petting zoo. Open continuous throughout the Fair, stop by and pet some new friends!
JAY MATTIOLI MAGIC
Sponsored by COARC
You have never seen magic like this!
Jay electrified the nation and stunned the judges with his appearance on NBC's #1 hit show " AMERICA'S GOT TALENT".
Jay's magic has appeared in over 20 countries including Hong Kong, Egypt, Kuwait, Qatar, Bahrain, England, and countless special events throughout the U.S. Jay's unique style of illusions captivate the imagination of millions. Jay creates many of his signature magic effects from the ground up. Everything from building props, costumes, music composition, choreography…..Jay does it all.
Decored in hip, vivid costumes, a carefully punked hair-do, and a vivacious assistant on his side, Jay performs magic with everything from live animals to levitating microphones as well as startling effects where Jay vaporizes his body in the blink of an eye! Packed with excitement, comedy, audience interaction, and a one-of-a-kind personality, Jay Mattioli delights audiences of the new millennium with a show that simply can not be missed!!
DJ JACK BOGARSKI
DJ Jack Bogarski returns to the Beer Pavilion for his 23rd consecutive year this 2018 season. Jack has provided the musical entertainment for all ages during the day and for the over 21 crowd from 7pm to close. He carries over 40,000 tunes and sticks to his reputation of playing the right song at the right time.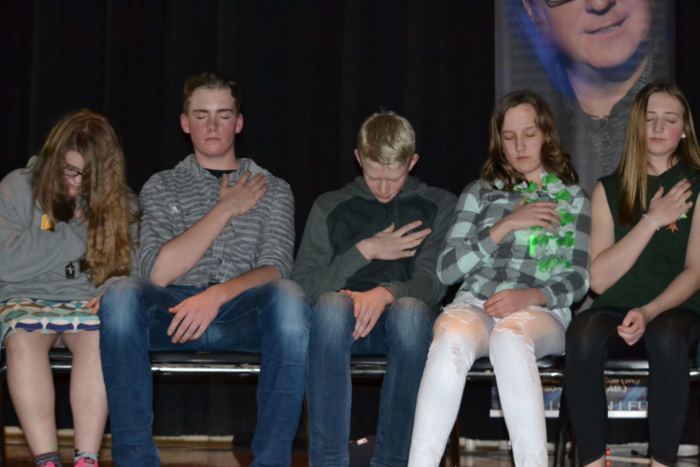 CORRIE J MENTALIST
Sponsored by COARC
Hypnotist Corrie J is a clean, appropriate and experienced comedy hypnosis show…perfect entertainment for the whole family.
ACOUSTIC RYE
Acoustic Rye is a Blues, Bluegrass, Country Band playing upbeat acoustic rock for a foot-stomping good time!
THE KENYA SAFARI ACROBATS
Sponsored by COARC
THE KENYA SAFARI ACROBATS® have redefined the perception of African Acrobats.  For the past 20 years they have wowed and awed audiences with high energy and lots of daring maneuvers, even going as high as 8 chairs that are over 25 feet in the air without a safety harness!! They are experts in the Rolla Bola, Chair stacking, somersaulting, precision tumbling, and gymnastics.  They defy gravity with hoop diving, juggling and amazing contortion acts..Including an awesome Rag Doll Act that was premiered in 2017.  One of the female artists can bend metal with her teeth.  And another artist spins on his head for 1 minute. At times the group is accompanied with drummers and even live bands at some of their themed shows.  The acrobats  are celebrating 20 years of touring by bringing a show called fusion! a celebration of African and Caribbean dance and music. 
ALLEN & AZZAAM
The music of ALLEN & AZZAAM is the product of a 3 year collaborative effort between saxophonist Allen Halstead and pianist Azzaam Hameed.  The ultimate result of their partnership is one where the whole is truly much greater than the sum of its parts.  Each musician has over 40 years of providing professional music entertainment, in all genres, for their listeners.  Their individual portfolios include playing with legendary performers such as Ella Fitzgerald, Billy Joel and Lou Rawls as well as many local jazz artists.  Together, ALLEN & AZZAAM specialize in presenting the jazz standards, today's contemporary jazz and R&B interpretations.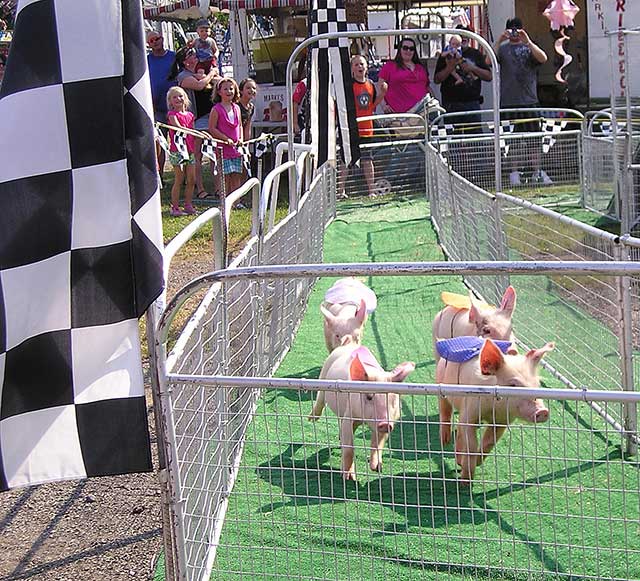 HOT DOG PIG RACES
Sponsored by Valley Energy and Crossroads Ford
These awkward, but cute and cuddly racing animals fascinate spectators. Real crowd pleasers, these natural comedians bolt from the starting gate and race around the track snorting and squealing, stubby legs churning and curly tails sailing along behind.
Heritage Village Exhibit
Sponsored by Mulhern Gas Co.
Candle making, wood carving, rug hooking, fly tying, jewelry making, tin smithing, iron work, all handcrafts that have been superseded by mechanization. Here in Heritage Village, see craftspeople working the old fashioned way – with their hands. Get a chance to not only watch something being made, but, if you choose, purchase an object to take home – a hand-crafted keepsake.
Grit and Whiskey
Grit N Whiskey is a Saratoga Springs, NY based all modern country music band. The six piece band consistently draws large crowds as they are known for their strong vocals, high energy and danceable country music. Performing live music for 9 years together, Grit N Whiskey has played shows throughout the region.
If you love "new country," you'll love what Grit N Whiskey has to offer. Some of the band's favorite artists to cover are Miranda Lambert, Jason Aldean, Carrie Underwood, Midland, Dierks Bentley, and many others.
Music Box Productions
"Music Box Productions" consists of two friends who genuinely enjoy playing, singing, and spinning discs…entertaining for you! Mike and Herb have been providing professional music services for over 40 years. We pride ourselves on having something in our repertoire for everyone. Our karaoke song selection contains over 75,000 song titles. Not many karaoke jockeys can make that claim! Our karaoke recordings dare top quality and favored by professionals and novice karaoke singers. We are also equipped with a top-quality sound system and can accommodate up to (5) singers at a time. With karaoke, everyone is a singer!
Jimy Graham
​Award-Winning Blues/Rock/Reggae Artist/Musician Jimy Graham was heavily influenced by the Motown sound and Carribean beats. Graham performed and recorded with Los Angeles Based reggae band Babylon Warriors and opened for UB40 with Reggae Superstar Pablo Moses. His live performances include an impressive array of artists from every genre imaginable including Chuck Berry, Janet Jackson, and Maxi Priest.
Jarrod
Local band Jarrod returns to the Fair with its original members Dick Levit, Dave Grazziano, Jack Bogarski along with new members Joe Clapper and Brian Tuczynski bring their classic rock, country and oldies songs.
Reverberators Duo
Two guys from the Albany, NY area making music and having a good time doing it! Take some straight up rock 'n roll, a little bit of blues, ballads and rockabilly, add some original tunes reminiscent of the great vocal groups of the 60's and 70's (Beatles, Byrds, Creedence, Eagles, CSNY) and that's the REVERBERATORS.
Hotshot Hillbillies
The Hillbillies can be found playing anything from Country to Classic Rock! This foursome of OC, Mike, Wendy and Jim  will have you up and dancing or just stomping your feet to some great music!
Harvest Hall
Sponsored by Kozel's Restaurant